Monitoring and Inspection Programmes
When is a monitoring and inspection programme needed?​

A key part of ACoP L8 is that once a Legionella risk assessment has been completed, you should prepare a written monitoring plan to control the identified risks of Legionella.
This plan should identify control measures and how they will be achieved.
This plan should then be implemented, regularly managed and monitored.
A detailed record of all precautions should then be kept in a dedicated site log book which is critical evidence for any health and safety inspection.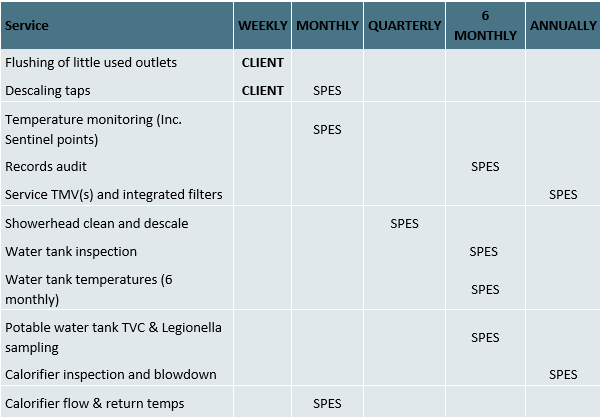 What is involved in a monitoring and inspection programme?​

Monitoring and inspection programmes start in the office, reviewing your current Legionella risk assessment and any other records relating to your water system.
A control regime is designed in full consultation with you, understanding the risks and the most optimum methods for managing these. Consideration is given to the available resources you may have in-house and responsibilities are assigned accordingly.
Record Keeping​

Perhaps the single most important aspect of any Legionella management programme is keeping a record of monitoring results and findings.
Each site is issued with a hard copy or electronic log book depending on your requirements. These log books contain standard documentation and site specific information such as:
Lines of communication and appointed personnel
Significant findings from the Legionella risk assessment
Written control scheme
Monitoring and inspection results
Monitoring and inspection templates (when site is undertaking actions)
Remedial and attendance logs

Why choose SPES for your monitoring and inspection programme?
By appointing S P Environmental Services Ltd on a contracted basis, the facility manager is relieved from the management of Legionella control and are offered peace of mind that they are meeting the required guidelines for maintaining safe water.